Indianapolis winters feel like a three-month waiting room. Barren trees. Wet, cold air that teases snow, but usually just rains.
Months on end indoors starts to feel like a subdivision prison.
By mid-January, I'm ready to sell everything and move back to California to climb the mountains in the Angeles Crest Forest, where I grew up.
But this week, the Spirit nudged me to find beauty in the bland. So, I stared at a barren branch, juxtaposed against the misty sky.
"Show me Your beauty, Lord," I whispered silently as I paused to observe towering sticks.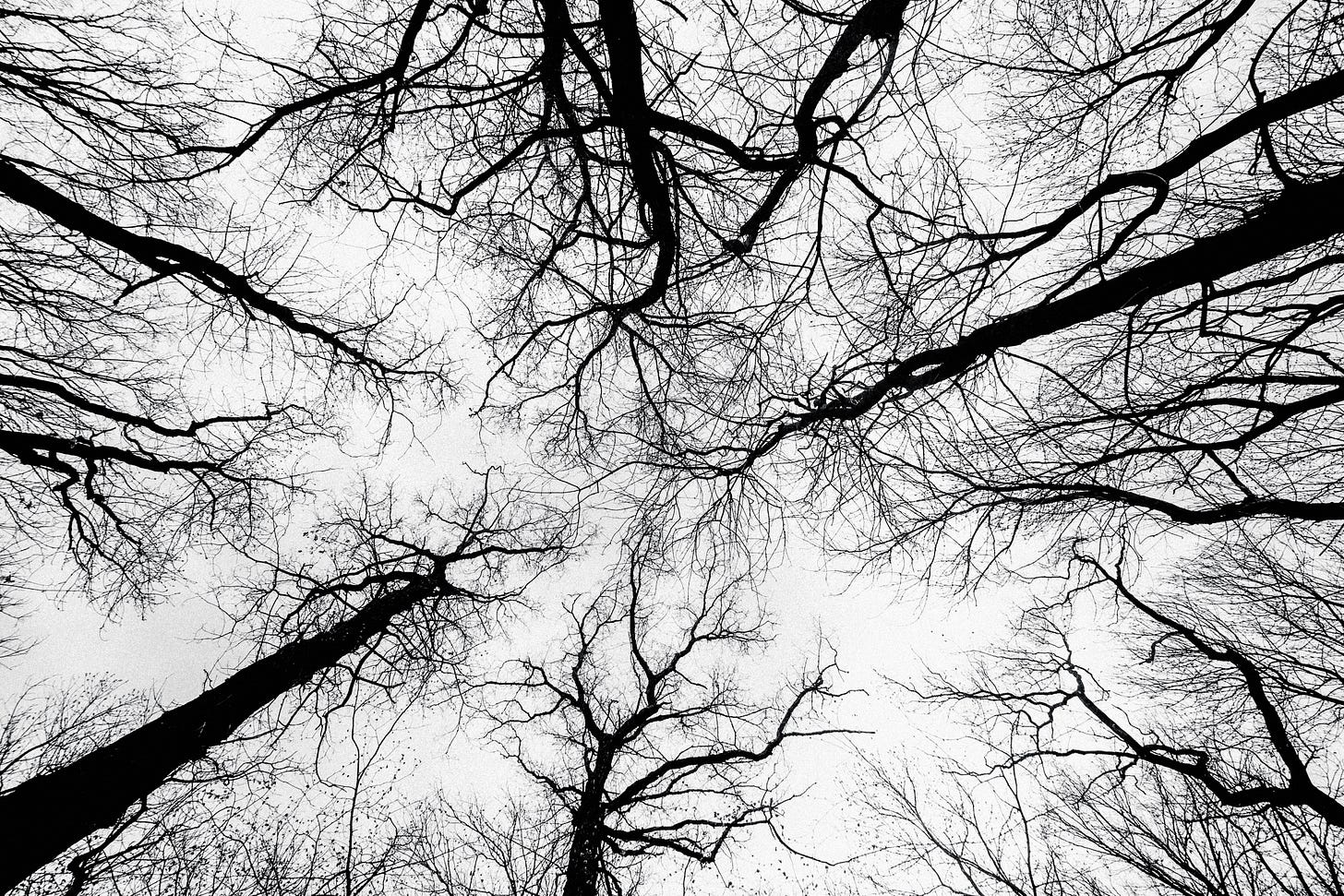 The branches—curved and twisted—seemed to each tell a unique story. Their weathered lives connect in what looks like a community of friends. And they all wait together, in due time, to bear forth the fruit of Spring.
Without the roots of the tree, there's no hope for leafless wood.


Our hope for becoming is also rooted in our connection.
The only way we become all God created us to be—is by living connected to the Vine—and growing in connection with the other parts of the Vine, the body of Christ.
John 15 teaches us that apart from abiding in Christ, we can do nothing (John 15:5). And we remain in Him when we do what He commands (vv.10) and His command is this: that we love one another as He has loved us (vv. 12).
Friend, we are all becoming—but what are we becoming?

To become all God created us to be, may we commit to practices that help us Abide in the Vine—and commit to Christian community.

A branch by itself cannot bear fruit.
---
Who knows—I might make it to the mountains this year—but in the meantime, I hope to become more of who God created me to be in the middle of a misty, cold winter.
May you also become more of who God created you to be in 2023.
So my question for us this New Year:
How Can You Abide in the Vine in 2023?

Read John 15. From this passage, what does it mean to abide? What practices or rhythms do you need to start or stop to abide in the Vine this year?